Radio show about Calvin and Hobbes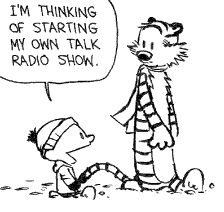 Copyright: Bill Watterson
On December 31 1995, Bill Watterson ended his beloved comic strip. CBC in Canada had gathered a couple of Calvin and Hobbes fans in their radio studio to talk about the comic the day before it ended.
In this 12 minute radio show they talk about:
Their reactions to the news.
The issue about the reality of Hobbes.
The creative but lonely Calvin.
Themes: fantasy vs reality, innocence vs cynicism, good vs bad, people vs tigers.
Calvins vocabulary and the intellectual side of C&H.
Sympathy to the female characters.
Latest plot developments.
This radio show is used with permission from CBC Canada. This show must not be publicly available from anywhere else but on The Calvin & Hobbes Jumpstation.
Listen to the radio show (MP3, 2.8 MB)
The Calvin & Hobbes Jumpstation got this radio show because I helped them in the search for Calvin & Hobbes fans for the radio show.
More: Podcast: Jawbone #81: In Search of Bill Watterson. An interview with Bill Wattersons mother.
Also: Check out all Calvin and Hobbes books including the new collection Complete Calvin and Hobbes.